FOR IMMEDIATE RELEASE:
Bonoboville, California. November 4th, 2014
Press Contact: David L. Rossi - 310-568-0066 - bonoboville@gmail.com
Can Sex Conquer War?
Can We Make Peace through Pleasure?
Global sex educator Dr. Susan Block's "acclaimed" paradigm-changing new book presents your long-lost cousins, the BONOBOS
What do these Great Apes know about sex—& the rest of life—that we don't?
From beheadings to bombings to chimpanzee wars, prospects for peace look bleak. Things on the home front aren't much cheerier as more and more suffer from deep frustration, depression, confusion, disillusion, broken homes and broken hearts. Meanwhile, each media cycle just recycles the same military pundits and love gurus proffering ideas as old and antiquated as human civilization.
Maybe it's time we look to a whole different animal for inspiration.
MEET THE BONOBOS, the most recently revealed branch on our hominid family tree. Bonobos have a lot of sex and never kill each other. They are the most female-empowered species in the great ape world. Now, in a unique and provocative new book, The Bonobo Way: The Evolution of Peace through Pleasure, acclaimed and controversial sex educator, HBO personality and best-selling author Dr. Susan Block takes an unprecedented look at our closest genetic cousins, their amazing sexuality and what they can teach us about how to cultivate an eco-sexual, gender-egalitarian society without murder or war.
An Alternative Great Ape Paradigm for Humanity
"For years, scientists, filmmakers and war profiteers have used the 'killer ape' paradigm to explain why humans kill each other, and supposedly always will," says Dr. Susan Block, founder and visionary of Bonoboville. "For confirmation, we look to our sometimes murderous chimpanzee cousins, but is that the whole story? Luckily, no. Bonobos are at least as close to us genetically as common chimps. These recently discovered, highly sexual, deeply empathetic creatures who have never been seen killing each other in the wild or captivity—and are so very close to us—present an exciting new great ape paradigm for humanity that could change the world… not to mention improve our sex lives."
Release Your Inner Bonobo!

From the lush depths of the Congo rainforest to the satin sheets of your bedroom, Dr. Block takes you on a fascinating journey into an erotic, peaceful paradise on Earth. Learn about "anger management, bonobo-style," the bonobo "fountain of youth," the Tao of Bonobo, the Bonobo Sutra, why MILFS rule Bonoboville, "50 Shades of Bonobo" and much more. Powerful yet playful, heartfelt but science-based, she weaves stories, studies, theories and fantasies into possibilities and a practical path of action, presenting a very different kind of "12-Step Program" to "release your inner bonobo," help save the wild bonobos from extinction and energize all facets of your life.
Whether you think you know all about these amazing apes or you don't know bonobos from bananas, The Bonobo Way will show you the way to a happier, healthier, sexier life, and a more peaceful, sustainable culture.
SEX. FUN. WISDOM.
The Bonobo Way is coming soon to a Kindle near you!
Pre-Order The Bonobo Way on Kindle Now!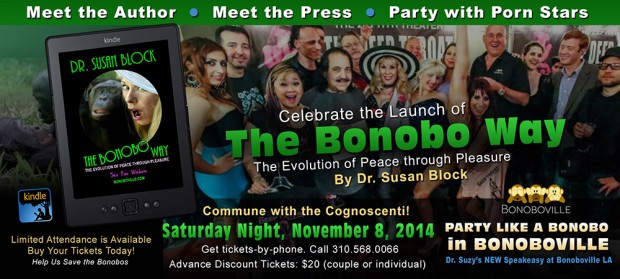 The Bonobo Way Launch Party & Opening of Dr. Suzy's New Speakeasy
Saturday night, November 8th in Bonoboville LA.
First Edition Print Publication: November 8th
Pre-Order Your Signed First Edition Print Copy of The Bonobo Way Now!
Kindle Launch: Monday, November 12th, 2014.
Get FREE KINDLES November 12th-17th

Check Out What Press & Pundits are Already Saying About The Bonobo Way
Enter to Win One of Three Copies of The Bonobo Way in Our Goodreads Giveaway
WATCH "THE BONOBO WAY" PROMO VIDEO
To contact Dr. Susan Block for interviews, presentations, media appearances or book-signings, or to visit Bonoboville, email or call David L. Rossi at the numbers and addresses below.
VCM Media Relations
David L. Rossi
Phone: 310-568-0066
International: Australia: 02.8080.2716 Canada: 1.866.207.7521 France: 01.727.701.34 Mexico: 05.585.256.466 United Kingdom: 020.710.194.30 Singapore: 800.130.1602 Skype: 213.599.7398
e-mail address: Bonoboville@gmail.com
Twitter: @DrSuzy
Website: http://TheBonoboWay.com
Social Media: http://Bonoboville.com