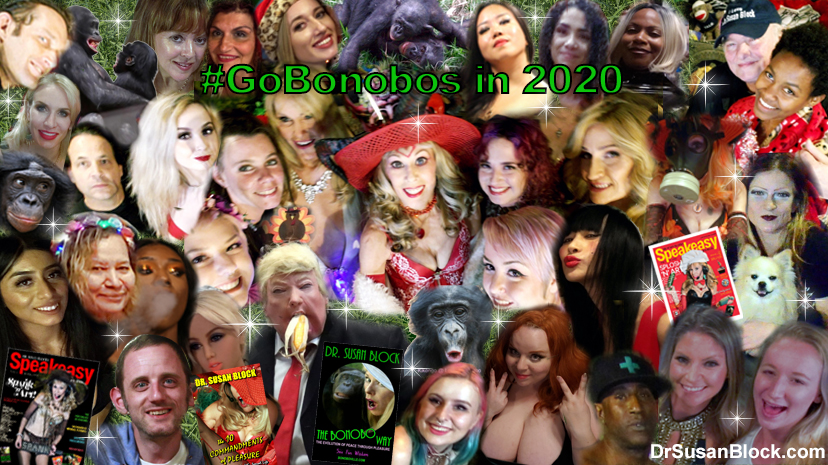 GET IT NOW!
The Bonobo Way: The Evolution of Peace through Pleasure
Some of the Rave Reviews...
"Impactful, hilarious... Dr. Susan Block's Bonobo Way just may hold the key to world peace."
Steve Karras, Huffington-Post
"The Bonobo Way is really good (and) living proof that bonobos aren't just sexy and fun—some of them are damned smart, too."
Chris Ryan, Ph.D., author of Sex at Dawn
"Bravo to Dr. Block for paving the way for a hopefully more bonobo future."
Vanessa Woods, author of Bonobo Handshake
"Awesome book... Excellently written and transformative.."
Dorion Sagan, author of Death and Sex
"The Bonobo Way is a pleasure on all counts." 
Serena Anderlini-D'Onofrio, Ph.D., author of GAIA & the New Politics of Love
"The delight and fascination of Block's lifelong love affair with the bonobo leaps from the pages of The Bonobo Way."
Lisa Barrow, The Alibi
"The Bonobo Way is marvelous--a happy book for a happy life and a happier world."
Xaviera Hollander, author of The Happy Hooker 

"Brilliant. A great book about human sexuality and how reverting to an evolutionary path can divest the human race from its aggression and violence."
Sherry Rehman, former Pakistani Ambassador to the U.S.
"I adore this inspired and entertaining guide to shame-free erotic liberation. It is so needed, so well-written and so completely unique. Brava Dr. Suzy!"
Barbara Carrellas, author of Urban Tantra
"Entertaining and astute, The Bonobo Way brims with humor, personality, and great advice."
Polly Whittaker, author of Polly: Sex Culture Revolutionary
"I love, love, love it. The Bonobo Way is a fresh way to look at sexuality."
Darrel Ray, Ed.D., author of Sex and God

"Delightful and insightful"
Betty Dodson, Ph.D., author of Sex for One & feminist icon
"Think of it as Jane Goodall After Dark. A fun and fascinating read."
Thomas Quinn, author of What Do You Do With a Chocolate Jesus?
"As the 21st century begins, with more violence and war than began what became the ultra-violent 20th century, Dr. Susan Block's latest book is a welcome tonic."
Barry A. Fisher, U.S. Supreme Court counsel

"Amazing! Super impressive. Dr. Block is an eco-sex visionary."
Annie Sprinkle, Ph.D., author of Annie Sprinkle: Post-Porn Modernist

"I love every page of The Bonobo Way.  The book is a real page turner and turn on."
Christian Bruyère, Champions of the Wild

"Easy to read and captivating."
Robert L. McGinley, Ph.D., President The Lifestyles Organization
"I LOVE The Bonobo Way. Thanks Dr Suzy for all you do in helping to enlighten humanity."
Dr. Shelley Hiestand, author of Soul Sex
"The Bonobo Way will save our planet! Dr. Susan's insight into sexuality is not only incredible, thought-provoking, and sex-positive...it is also the sexual revolution, easily mapped out, that we have been waiting for."
Tracy Vanity, blogger
"We have a lot to learn from our bonobo brothers and sisters, and this is a great place to discover just what that is."
Jason Martin, author of Voluptua, a novel

"I loved the book."
Katherine Frank, Ph.D., Plays Well in Groups
"Brilliantly presented... rambunctious, shrewd, serious, yet humorous"
Michael Donnelly, Counterpunch writer

"Fantastic work! Such a pleasure to read!"
Kendra Holliday, blogger The Beautiful Kind
 "The Bonobo Way is a great and timely book... All those interested in human happiness should read it."
James W. Prescott, Ph.D., author of Body Pleasure and the Origins of Violence
"It works. I mean, it really works!"
Max, Dr. Suzy's Husband
THE BONOBO WAY
by Dr. Susan Block
Over 40 5-STAR REVIEWS on AMAZON!
ORDER NOW in Print or Kindle Editions or Get a Signed Copy! You'll Be Glad You Did.
What Do These Amazing Apes Know About Sex – And the Rest of Life – That You Don't?
Discover what the world's leading scientists are finding out about humanity's closest genetic cousins that will part the curtains to a better, happier, healthier and sexier life for you... and more peace on earth for all.
What are the "Secrets of the Bonobos" That Can Revolutionize Your Life?
The Way to Better Sex * The Way to Deeper Love * The Way to Youthful Vitality * The Way to Peace through Pleasure * The Way to Greater Happiness & Success at Home and Work * Discover The Bonobo Way: Improve Your Life Today!
Is your work life 8 hours of unrewarding tedium?
Is your sex life 8 minutes of unimaginative boredom?
From the lush depths of the Congo Rainforest to the satin sheets of your own bedroom, let acclaimed sex educator, best-selling author, HBO personality and horny housewife Dr. Susan Block help you "go bonobos" through a very different kind of "12-Step Program" that will release your "inner bonobo" and energize all facets of your life.