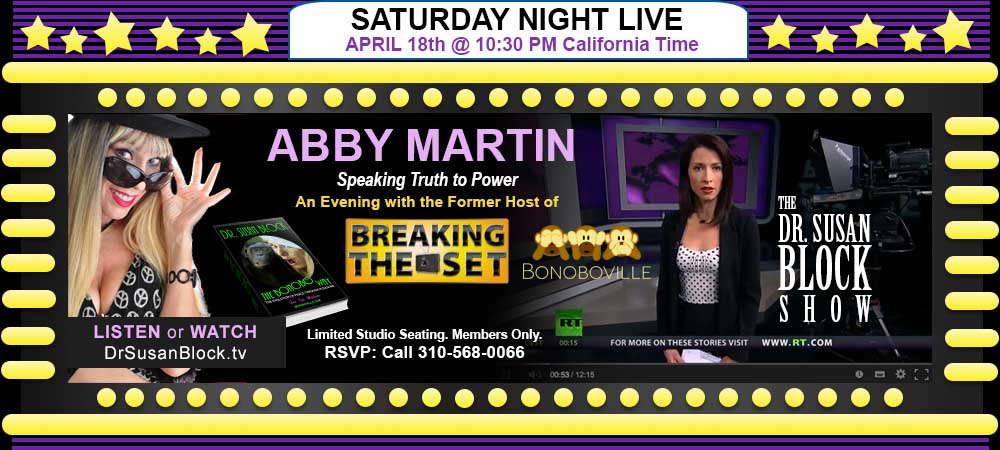 Abby Martin on The Dr. Susan Block Show this Saturday
This Saturday, April 18th, 2015, 10:30 pm PST The Dr. Susan Block Show will present a special evening with Abby Martin, the controversial American journalist, an important voice in alternative media, former host of Breaking the Set on RT America network, co-founder of the citizen journalism site, Media Roots and member of the board of directors of the Media Freedom Foundation which manages Project Censored. An avid fan of Abby Martin's paradigm-breaking journalism and passionate peace activism, Dr. Susan Block looks forward to an in-studio interview that is sure to enlighten her audience and make war apologists cringe.
"An Evening with Abby Martin" on The Dr. Susan Block Show will air LIVE Saturday night, April 18th,  2015, 10:30pm-Midnight PST on DrSuzy.Tv. 
Click Here to RSVP to attend this show in the "Speakeasy" studio audience or call 310.568.0066. Studio doors open at 9:30 pm.
Call-In During the Live Broadcast: 1.866.289.7068. Tweet comments and questions @RadioSUZY1. Listen Free or Watch the live show at DrSusanBlock.Tv . Chat live in the Bonoboville.com Studio
This week's live broadcast sponsored by Agwa Cocoa Leaf Liqueur, Dirty Tequila, The Dr. Susan Block Institute and The Bonobo Way!
Watch the "Best" of "Breaking the Set" with Abby Martin
Abby Martin is also a visual artist, and an exhibit of her artwork opens at The Lab in Ventura on April 17, with proceeds going to the victims of police violence.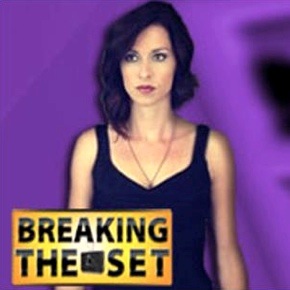 Spring has sprung! Bonobos just want to have fun! Help make 2015 the Year of the Bonobo and get your copy of The Bonobo Way: The Evolution of Peace through Pleasure.
The Dr. Susan Block Show is produced by The Dr. Susan Block Institute for the Erotic Arts & Sciences, an international center for sexual expression, therapy and education, based in LA, founded in 1991 by Susan M. Block, PhD, world-renowned Yale-educated sexologist, best-selling author and host of HBO specials. The Institute's mission is to help individuals, couples and communities enhance their sexuality and improve their lives based upon Dr. Block's philosophy of Ethical Hedonism and The Bonobo Way of Peace through Pleasure. A portion of all proceeds goes to help save the highly endangered "make love not war" bonobos from extinction in the Congo and to promote the Bonobo Way around the world.