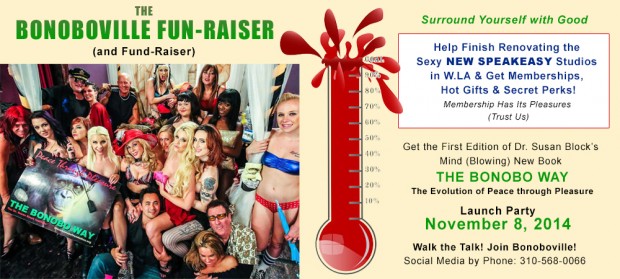 The Bonoboville Fun-Raiser (and Fund-Raiser)
And Why You Should Donate...
    Recently, The Dr. Susan Block Show studios @ Bonoboville moved to a beautiful new space in West L.A. Now - back by popular demand - we have just re-opened "Dr. Suzy's Speakeasy," L.A.'s first modern, happening, members-only "speakeasy" - as much fun as the good old days of Prohibition, but all perfectly legal and very cool. Thanks to your donations of cash and energy, we opened with a spectacular launch party for The Bonobo Way. But the building and renovating continue!

   Those of you who have attended the launch or our live other broadcasts and tapings over the past 20+ years have also enjoyed some of the most outrageous and marvelously erotic, exotic parties, salons and "bacchanals" ever held in L.A. Our local cable TV broadcasts have helped to bring up a generation of Angelenos to be much more sex-affirming than their parents. Our HBO specials (which HBO keeps running) have touched even more individuals, couples, trouples and tribes around the world. Now we reach even further across the globe, educating, instigating, stimulating and helping people deal with and enjoy the wonderful world of sexuality. We also help to support the highly endangered bonobo apes who inspire our philosophy of "peace through pleasure," the Bonobo Way.

   It all costs money, because we are not government-funded nor advertiser-supported. Rather we create The Dr. Susan Block Show, all the amazing parties and other events out of our own not-very-deep pockets, with the support of The Dr. Susan Block Institute, as well as your donations. We are always short of funds, yet we are forever dedicated to bringing sex education into every home that invites us.

   We need $5,000 - 10,000 to finish the studio, art gallery, create our new non-profit (we've never made a profit anyway and barely even a living), refurbish parts of the new building which is an old 1950's motel, and buy some much-needed equipment…That's a lot of BANG for only 5-10,000 bucks. So if you want, you can give more. We keep giving on our side, no matter what. We are "Therapists Without Borders" & "Radio Without Boundaries"...

   Please donate as much as you can or want. Like the real bonobos, we believe in the power of reciprocity, and in gratitude for your donation, we will give you all kinds of gifts, benefits and love. If you donate over $1,000.00,you can get a sign on the door (a room named after you!). Donate a million or so and you can get the whole building with us in it, a return on your investment and other things we can't mention here.
   Come share the sexual knowledge, help save the bonobos from extinction and party like it's the end of the world and the beginning of time.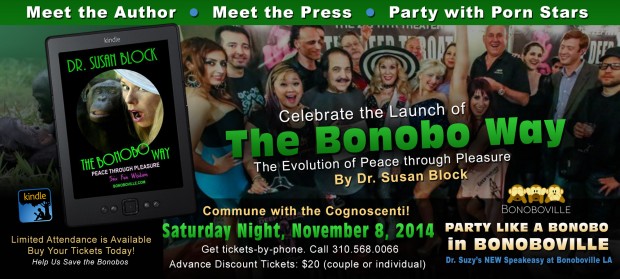 Can't donate? Cash-poor at the moment, but rich in constructive energy and positive attitude? Donate your skilled or unskilled labor to helping build our new studio. You could also donate your truck! Call 310-568-0066. Ask for Maya. You can call anytime. Someone is always here for you.

   Broke and unskilled? Join Bonoboville free and contribute your love.
Thank You for the Love! Surround Yourself with Good
Pappi: $50
"This is my Saturday night group therapy!"

Nancy Sutton's House of Yoga: $50
"Support Bonoboville and Dr. Suzy & Max always!!"
MandN: $30
"Thank you."
"You're the best, Dr. Block."
"I'm glad to be able to give something & be a part of your culture xoxo"
"we love & miss you guys. can't wait to come party in the new place someday. xoxo 
"Good luck with everything! I love the Bonobo philosophy."
$1,160 Raised
Goal: $10,000
Days Left:
0
CONTRIBUTE

$5   Value: Priceless
Perk: Personal Erotic Thank YOU E-Card!
$10    Value: $11.69
Perks: The Bonobo Way e-book ($6.69 Value) + everything the $5 donors get.

$20    Value: $26.69
Perks: Ticket to Bonobo Way Pre-Publication Launch Party & Speakeasy Opening + everything the $10 donors get.
$30   Value: $51.69
Perks: 6 months membership in Bonoboville - FULL ACCESS ($25 value) + everything the $20 donors get.

$50  Value: $71.69
Perks: The Bonobo Way - First Print Edition ($20 value) + everything the $30 donors get.
$100  Value: $121.69
Perks: Triple Squirt Salon DVDs ($50 value) or Bonobo Way DVDs + everything the $50 donors get.
$300 Value: $321.69
Perks: 6 Months Speakeasy Membership ($200 value) + everything the $100 donors get.
$500 Value: $521.69
Perks: 1 year Speakeasy membership ($400 value) + everything the $300 donors get.
$1,000 Value: $1220.69
Perks: Your Name on the Door of a Room in Bonoboville ($699 value) + everything the $500 donors get.
$1,500  Value: $1,889.69
Perks: A Night in Bonoboville ($669 value) + everything the $1000 donors get.
$2,500  Value: Priceless
Perks: A Weekend in Bonoboville ($2069 value) + everything the $1,500 donors get.